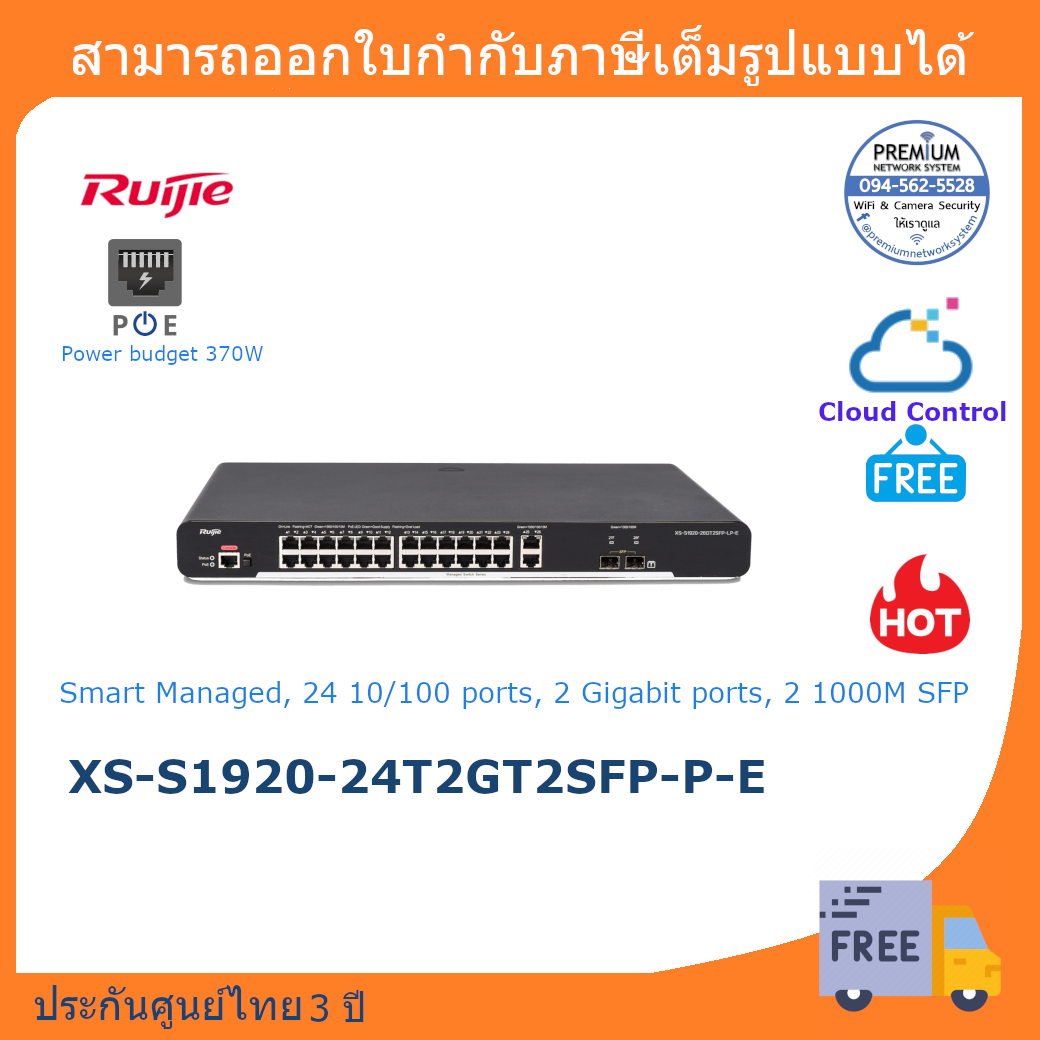 Ruijie Smart Managed PoE (370w) Switch 24 10/100 port 2Gigabit 2SFP
รหัส : XS-S1920-24T2GT2SFP-P-E
Smart Managed Switch, 24 10/100BASE-T ports, 2 10/100/1000BASE-T ports, 2 1000M SFP ports, AC power supply, support PoE/ PoE+, PoE power budget: 370W;  Managed by Ruijie Cloud, Web-UI and CLI. Bundled with Ruijie Cloud Service lifetime license
ราคา 18,600บาท
Easy Management
● The S1920 Series fully supports Ruijie Cloud, which is a cloud-based service that helps user deploy and manage devices and networks. Now using Ruijie Cloud mobile app, monitoring and simple maintenance job for switch can be done remotely on a cellphone. More professional operations can be done on Ruijie Cloud Website.
● Even non-technical users can do easy management for the network through a Web browser and S1920's Web-UI.● With RGOS's full command line support, complex configuration and troubleshooting can be done as well.
Unique Smart+ Features for CCTV
● IP cameras and NVRs will be identified by switch, and configurations like MTU, flow-control and port isolations will be deployed automatically.
High Performance
● Instead of flooding traffic to all ports, the switch filters multicast traffic to improve network performance, especially useful for IPTV and CCTV deployment.
Connectivity and Resiliency
●Provides fiber uplinks on all models. SFP ports are in addition to RJ45 Ethernet ports, providing higher total number of available ports.
● For XS-S1920-9GT1SFP-P-E, Ports 1-8 provide PoE/PoE+. For other four 24-port PoE models, Ports 1-24 provide PoE/PoE+.
● Compliant with IEEE802.3az standard requirements in order to save energy.