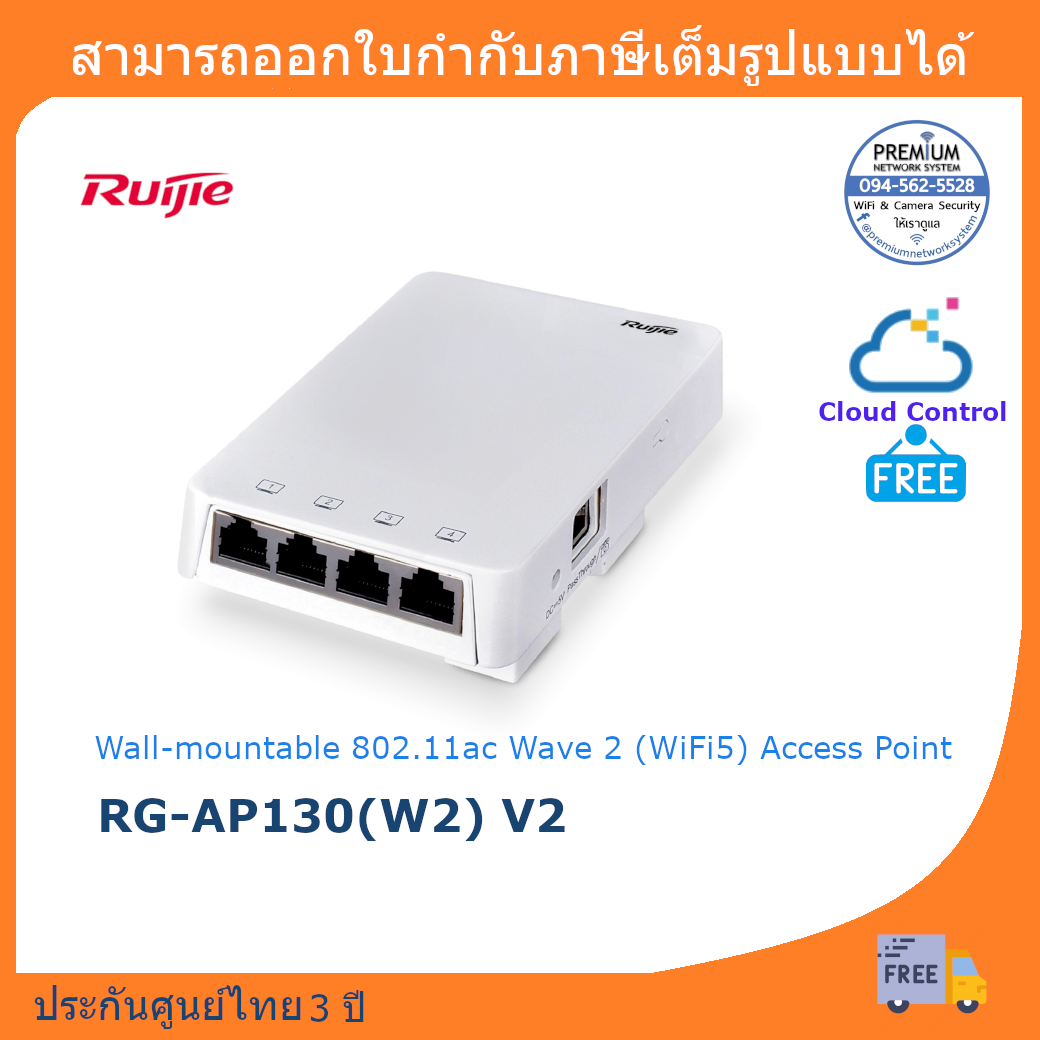 Ruijie Wall-mountable 802.11ac Wave 2 (WiFi5) Access Point
รหัส : RG-AP130(W2) V2
Wall-mountable 802.11ac Wave 2 (WiFi5) Access Point, dual-radio, dual-band, 4 GE LAN, 1 GE Uplink, access rate up to 1.167Gbps, 2 spatial streams, FAT/FIT mode, PoE power supply or local DC power supply; Bundled with Ruijie Cloud Service lifetime license
ราคา 5,000บาท
High-performance 802.11ac Wall AP
The Ruijie RG-AP130(W2) Wall AP adopts a dual-radio, dual-band design and supports concurrent operation of 802.11a/n/ac and 802.11b/g/n. The Wall AP provides 4 1000Mbps or 100Mbps RJ-45 ports and 1 RJ-45 transparent Voice/PoE pass-through port (RJ-11 combo). The AP on the rear also offers 1 1000Mbps uplink port and 1 RJ-45 transparent pass-through port (RJ-11 combo). The dual-band 2.4G and 5G coverage can achieve a concurrent coverage supporting 2 spatial streams, providing an unparalleled network experience.
MU-MIMO Support
The wall-mountable RG-AP130(W2) supports the MU-MIMO feature. Most single-stream end devices only utilize half of the resources of the dual-stream RG-AP130(W2) Wall AP with the other half left unused. The wasted AP resources will stagnate the enhancement of user experience. With the MU-MIMO feature, RG-AP130 (W2) makes full use of the AP resources and is capable to serve two end devices concurrently, improving the user experience.
Simplified Deployment
The RG-AP130(W2) Wall AP adopts a wall-mounted design with 2-step easy deployment:
Step 1: Remove the original 86-type faceplate from the wall.
Step 2: Directly install the plug-and-play Wall AP and connect with original UTP cable (PoE).
This breaks through traditional wireless network construction methods by reusing existing network cables and minimizes the impact of network construction in hotel or similar settings. As no additional cabling is required, the Wall AP delivers maximum business agility and investment protection. Ruijie also offers a wide range of optional accessories to meet your unique deployment needs.