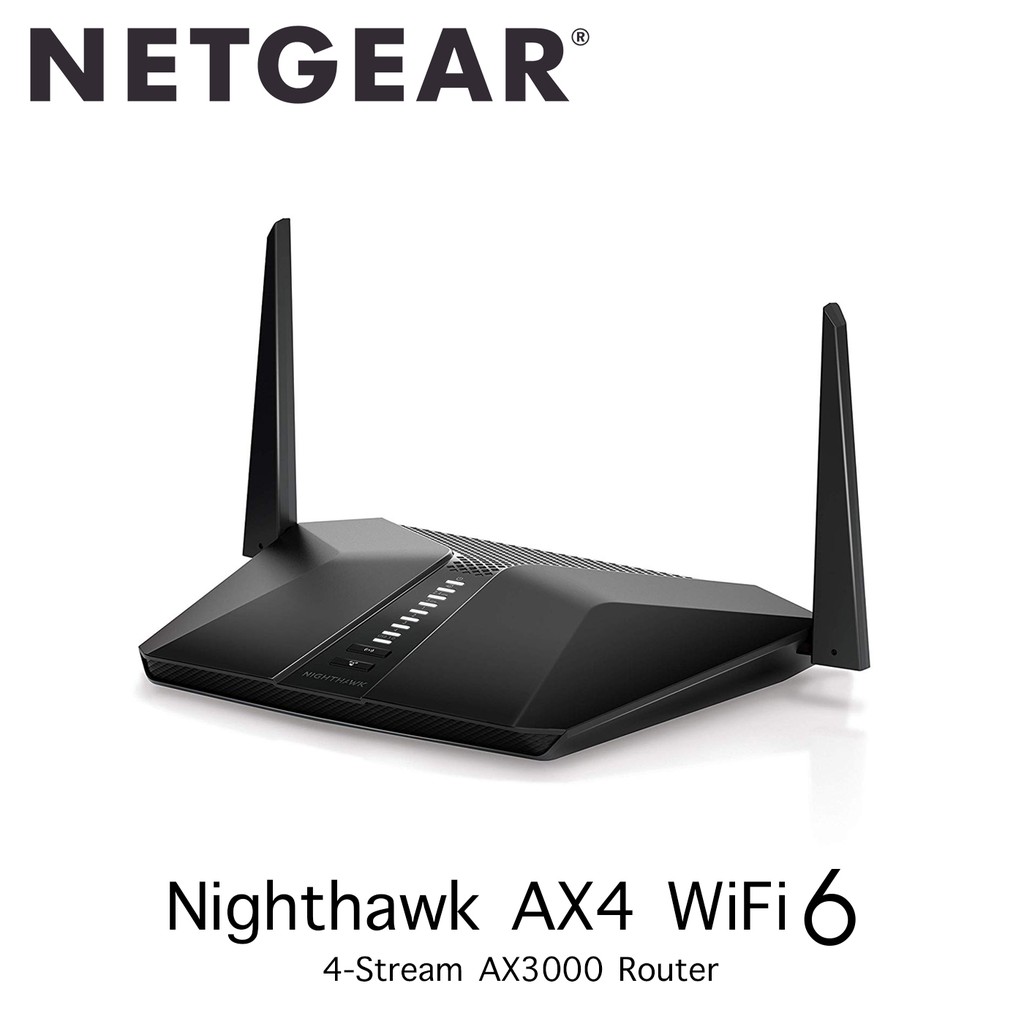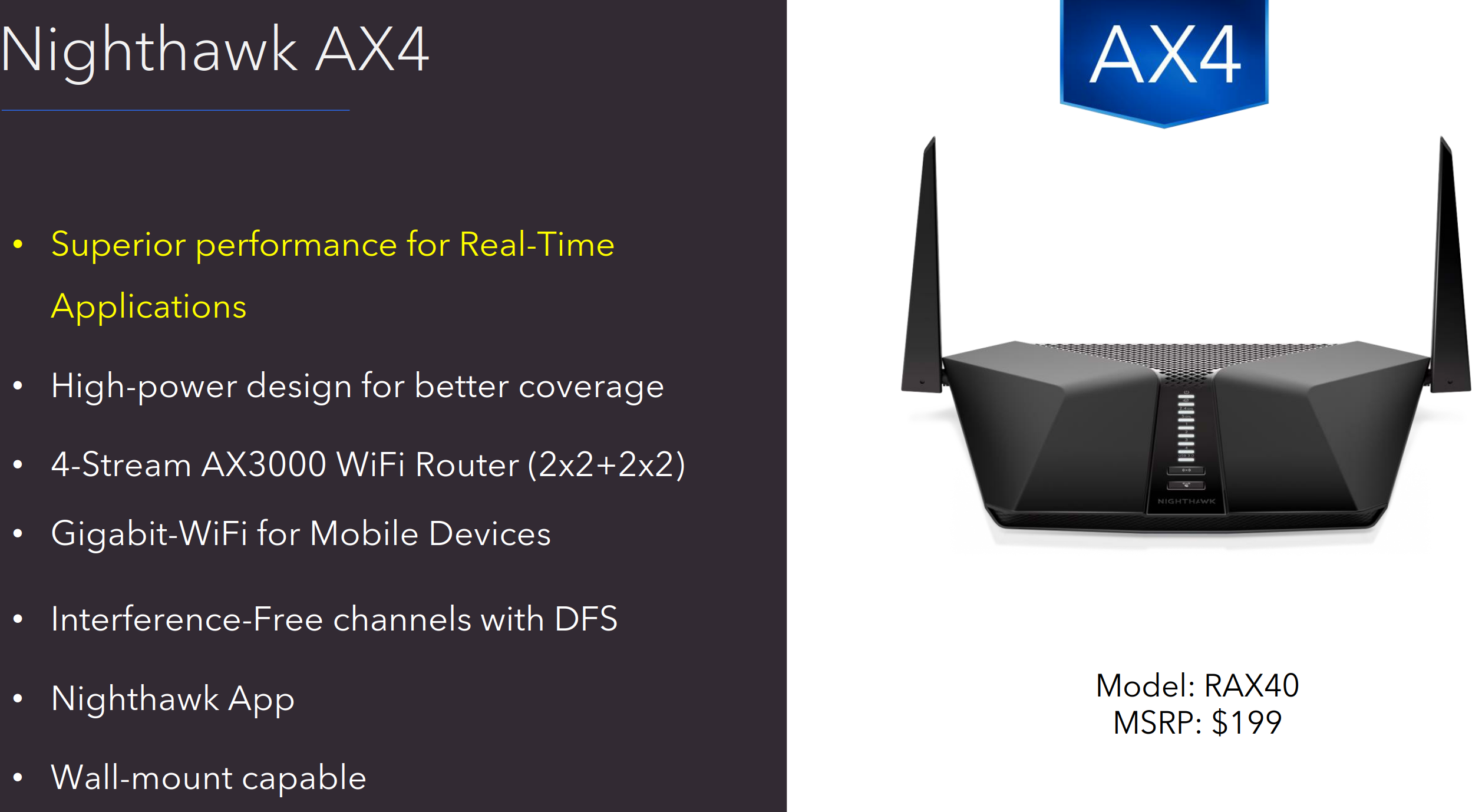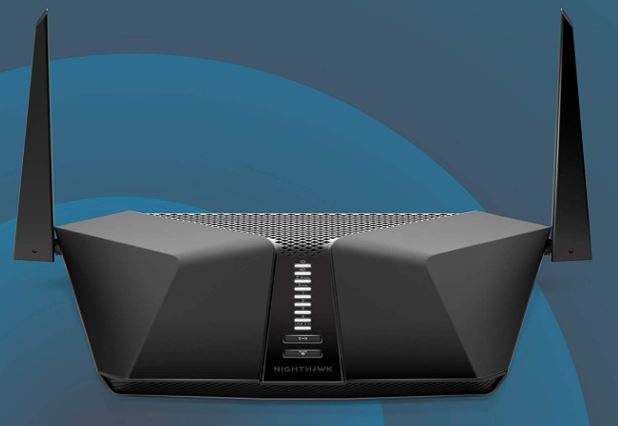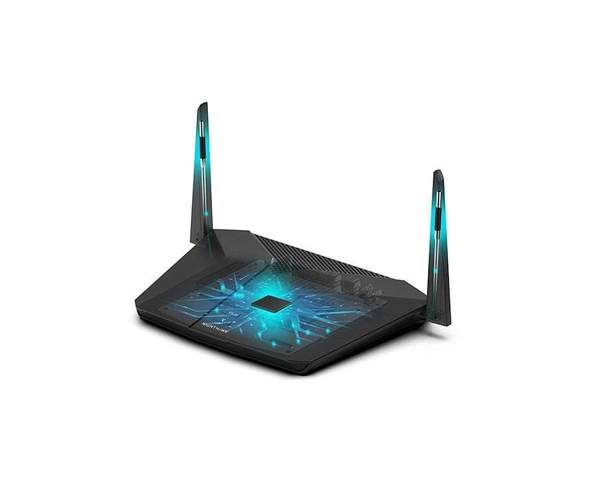 RAX40
รหัส : RAX40
NETGEAR Nighthawk AX4 4-Stream WiFi 6 Router (RAX40) AX3000 Wireless Speed (up to 3 Gbps) Coverage for Small-to-Medium Homes | 4x1 G Ethernet and 1 x 3.0 USB Ports
ราคา 9,900บาท
The NETGEAR® Nighthawk® AX4 4-Stream AX3000 WiFi Router supports the latest generation
WiFi 6 technology to provide greater network capacity with consistent and powerful signal strength
to all your connected devices. The Nighthawk® AX4 WiFi router delivers a new level of
Gigabit WiFi connectivity so you can connect, stream and download faster to newer mobile devices.
Powerful dual-core processor with a fully offloaded CPU increases overall performance of the network.
OFDMA, 1024 QAM and 160MHz channel support vastly improve network efficiency to
deliver 4 times the performance as compared to previous WiFi standards. Enjoy smoother streaming,
faster downloads, and improved gaming and video conferencing.
---
From the manufacturer
Faster Speed For Your Needs

Up to 3Gbps for smooth HD streaming, improved gaming, uninterrupted video calls, and no more waiting for content on smart phones, computers and tablets.

More Capacity for 20+ WiFi Devices

4 WiFi streams give you 2X the capacity of previous WiFi. More streams greatly increase the bandwidth available to your devices and the amount of data you can send and receive. Now there's nothing to hold you back from a true high-speed internet experience.

More Efficiency, Less Congestion

Say goodbye to slow connections when a houseful of devices are sharing WiFi. RAX40 features new OFDMA technology that makes sharing WiFi bandwidth much more efficient. It significantly increases the amount of data that can be sent and received by your devices at the same time, and prevents annoying connection delays.
Longer, Stronger Coverage

Two high-powered antennas deliver reliable WiFi coverage to your devices. Move throughout your home with no loss in performance.

Easy Setup & Management

The Nighthawk App makes it a snap to set up your router and get more out of your WiFi, including great features like Internet speed test, remote access to your network, internet pausing and more.

Supports Fiber & Internet Plans up to 1Gbps

RAX40 is designed to support the latest 1G internet plans. Simply connect the internet to the WAN port using an Ethernet cable, and start to share it across all your devices.